Forged in Shadow (The War of the Nine Faerie Realms, Book 1), eBook
Regular price
Sale price
$4.99 USD
Unit price
per
Sale
Sold out
Instantly download a digital copy of Forged in Shadow in the format of your choice.
In the chaos of war, not all heroes shine. Some must rise from shadows to claim the light.
As the youngest son of the greatest smith of the fae, Curuthannor should be aspiring to the forge. Instead, he would rather wield a blade than craft one. When the high elf king commissions a powerful enchanted sword requiring iron found only in the subterranean goblin mines of the Shadow Realm, Curuthannor seizes the opportunity to earn a place in the smithy that doesn't require a hammer. But when dark elf treachery interferes, the lives of his entire family could be at risk...for the high elf king is unmerciful and will not suffer disobedience.
Especially from his own daughter.
Lhéwen is honored to be the only handmaiden selected to attend the high elf princess on what she believes is a diplomatic delegation to the dark elf king. She doesn't realize it could be a one-way trip. While the princess forges an escape from the high elf king's ruthless will, Lhéwen is trapped in a foreign land. Betrayed and alone, Lhéwen discovers it is her own quiet power that may free—or doom—them all.
For when the pen fails, the sword will take its place.
Forged in Shadow is the first book in the thrilling new epic fantasy trilogy by award-winning author, Megan Haskell. Set in the same universe as The Sanyare Chronicles, this is the story of the Great War between the nine faerie realms. If you like sweeping vistas, unexpected heroes, and world-shattering stakes, you'll love this battle between Shadow and Light.
***
Ebooks are delivered via BookFunnel. Please see note below about how to download your purchase.
Materials

Instantly download the digital book in the format of your choice and load it onto your preferred reading device.
Shipping & Returns

This is a digital product available for instant download. 

No shipping cost!

No returns.
Download Instructions

Immediately after purchase, you will receive an email from BookFunnel to download your book. If you don't see this email in your inbox, please check your promotions and spam folders. If you still can't find it, email help@bookfunnel.com to verify your purchase and get your download code.
Share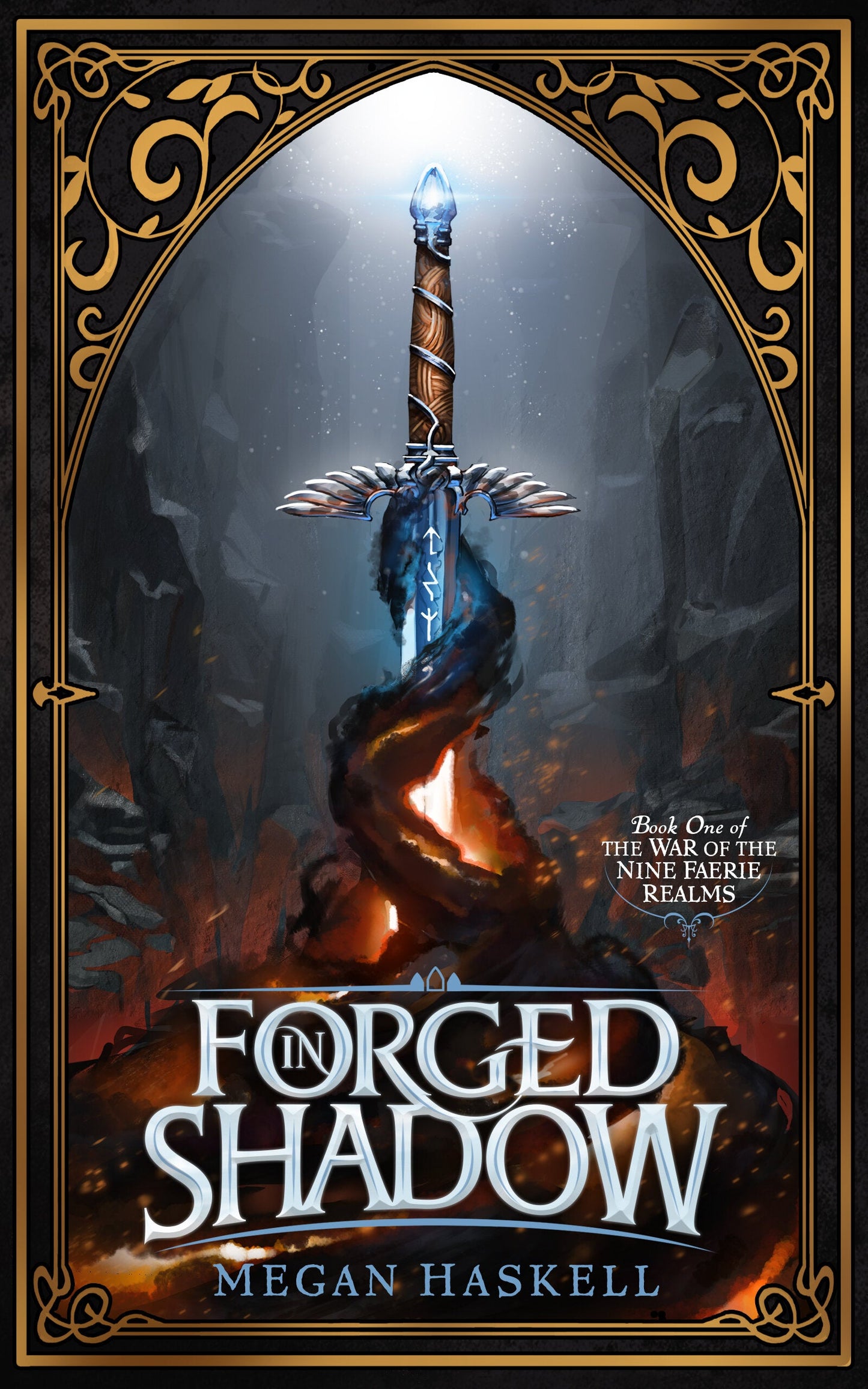 BookFunnel Download
After purchase, you will receive an email from help@bookfunnel.com with the link to download the ebook. If you don't see the email from BookFunnel in your inbox, please check your promotions and spam folders.
If you have any trouble after purchase, email help@bookfunnel.com for support.
BookFunnel lets you read your ebook on any device.
You will be able to read on Kindle, Apple, Kobo, or any app you currently use to read ebooks. In addition, BookFunnel has developed their own free book reading app.
The free app is connected to the BookFunnel system, so any books—ebook or audio—that you download through them will be collected in one unified library. With reader-focused features, the app makes reading and listening to books easy and enjoyable. https://getbookfunnel.com